5 Ways Google Can Make Planning Easier For a School Trip Leader: #1 Google Sites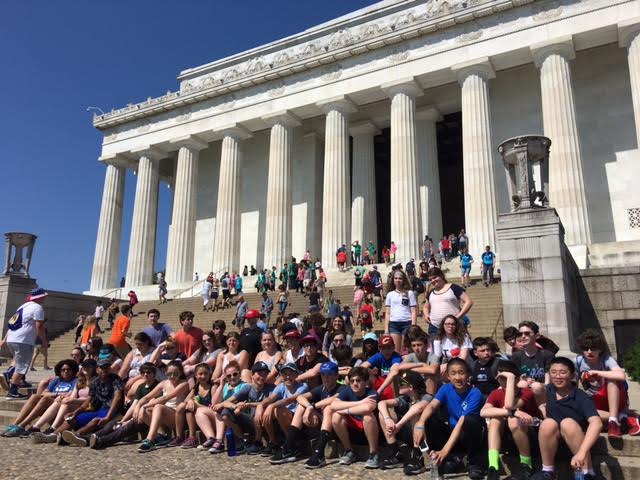 Google Apps are amazing tools for teachers to use when planning an overnight school trip to Washington, D.C., or another popular destination. Google Sites, Drive, Calendar, Docs, Sheets, and Forms can all work together to help you meet and overcome challenges that come with planning an educational tour of this magnitude.
This article is the first of a six-part series about how to use Google to help make your trip planning and execution easier. 
---
SCENARIO: You've been given the approval to travel to our nation's capital with your students and chaperones. Registrations, payments, buses, hotel, food, medicine, touring venues, appointments, traffic, tour guides, and so on. All eyes are on you. Feeling overwhelmed?
Don't panic! NationsClassroom has your back with all of this, but you can do a lot on your own to make the planning and execution of the trip much easier. Managing communication, tracking important information, and so much more can be done with Google.
Google Sites – Home to ALL of Your Trip's Public Information
Google Sites are websites anyone can build. If you do one new thing for your trip, build a Google Site to house all of your trip information and point your parents and travelers to this website regularly.
Unlike other website creator tools, Sites provides a very simple, easy-to-use, and understand platform. The tools carry simple and easy-to-understand names. Other Google apps are easy to embed (or attach) to your site. Sites provide themes to ensure a consistent look with little effort on your part. You can have one page or create subpages to divide up your information.  
What do you put on it? Everything! Sites should be the warehouse of information for your trip.
To start, adding a link to your tour company is a must for tour information, registration, and payments. Do it once and not only will your current parents have quick access, but so will the parents for next year … and the year after … and so on.
Next, a simple line of text displaying your trip dates is a no-brainer so families know when you plan to travel.
Finally, include contact information for yourself and the contact information of your tour company.
Ready for more?
Include the website's address on your email signature.

Include the website address on flyers and any information you distribute.

Pull up the site in class and show it to your students.

Show families at your information meeting.
You also may want to create a Google Calendar just for the trip with important deadlines and embed it into your Site. Since it's another Google Product, it only takes about three clicks to make it happen.  For more information, watch my YouTube video on how to add a calendar to your site here.
Don't stop … the sky's the limit. You can embed Google Docs (or PDFs) you've created as flyers. Do you sell t-shirts or other trip-related items? Post these links right on your site. Want to share a suggested packing list? Go for it!
Over time, you will know exactly what to include. You can easily update and manage your site. And there will come a day that you will probably wonder how you could have done without a Site.
Go straight to Part Two: Google Sheets…
---
The next article in this six-part series will cover how to use Google Sheets and FormMule to send personalized, bulk communication about your school trip.  
To start planning your educational tour, please browse NationsClassroom's tours or request more information.
Originally published May 2018, updated July 2021