Expert Advice for Navigating Times Square on a School Trip to NYC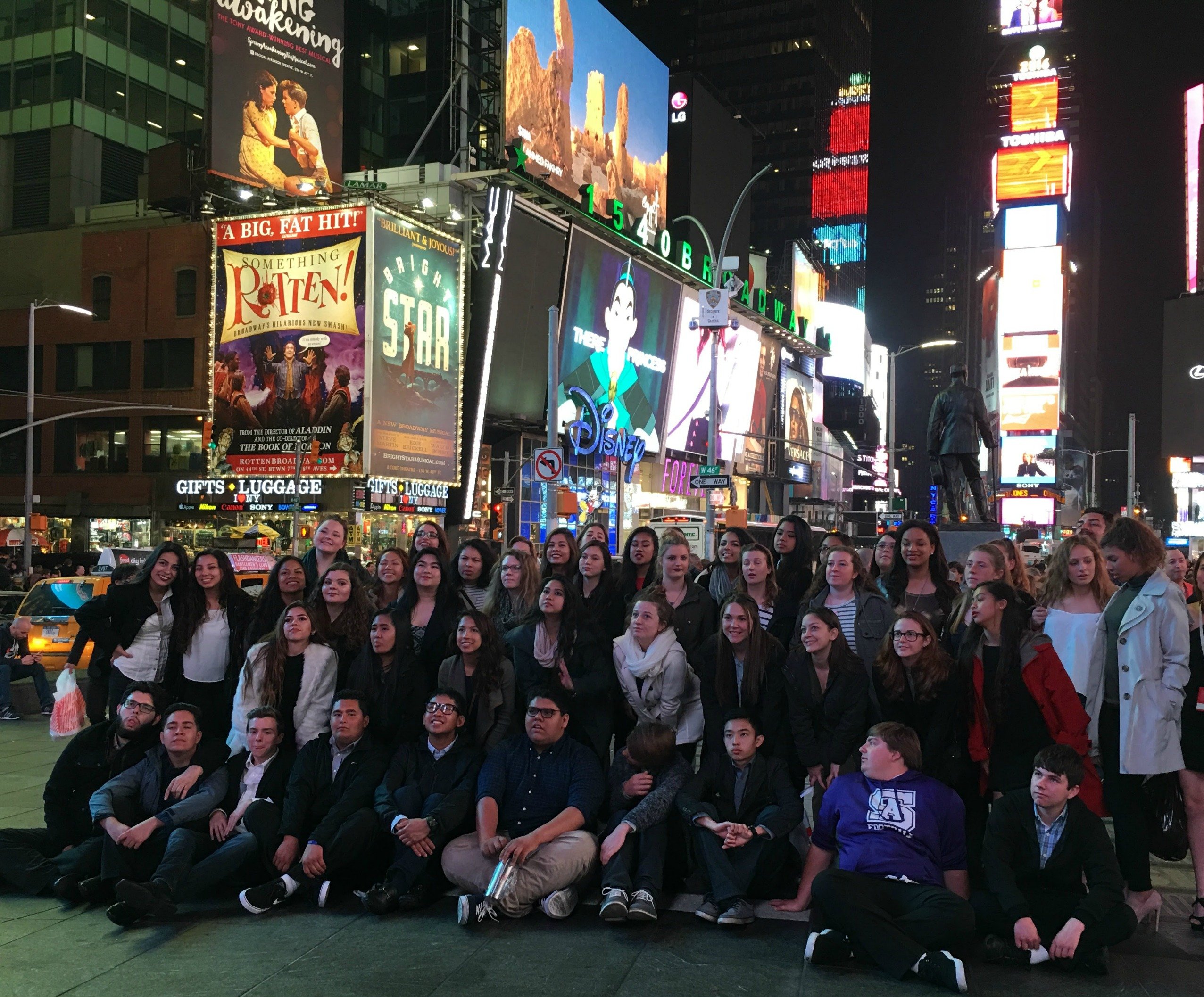 Visiting the iconic sights of the Big Apple is an education unto itself, with most first-timers experiencing a rush of adrenaline and nerves about what to expect.
Here is my advice for teachers and students about how to best experience one of the most popular attractions on a school trip to New York City: Times Square.
---
Having to lead more than 200 groups and 10,000 travelers into Manhattan during the past 15 years, I can say that the most important thing to remind your group about is to PAY ATTENTION before leaving the motor coach for the first time.
Students need to be reminded to pay close attention to the tour guide's instructions and any reminders you may have as the trip leader.
No cell phones, side conversations, or other distractions. 
The city can be confusing once you're in the "belly of the beast," with millions of people rushing past you, around you, or bumping right into you. Staying tuned in is key to a good experience.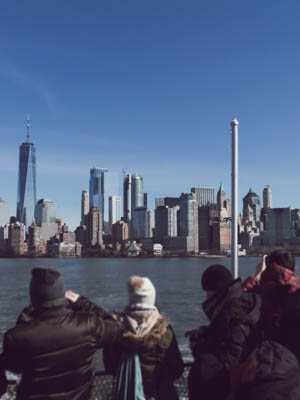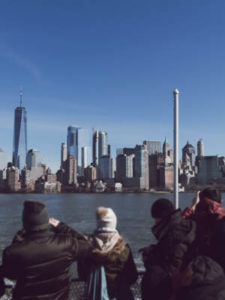 While they are paying attention, here are important pieces of advice to pass along that should be followed in any major city.
Our #1 priority is S-A-F-E-T-Y. Always

.

Walk on the

right side

of the sidewalk. They made sidewalks for people heading in both directions, not just one. Locals will think nothing of walking right into you to make a point if you forget this simple instruction. Hooking arms and shuffling down the sidewalk like Dorothy and her friends from Oz will not end well.

If you're going to stop and take in the view, that's great, but slide up against a building to do it. Stopping in the middle of a sidewalk to talk or take photos will earn you plenty of glares and an occasional bump or two.

When on an escalator, stand to the

right

.

This allows those in a rush to scoot past you on the left. Riding NYC escalators will give you great insight into what constitutes a "New York minute."

While locals are often more friendly than many visitors expect, everyone is not. Understand it's best to stay friendliest with your fellow group members and not strangers.

Only cross intersections on the white walk sign,

not

on the orange stop hand. Your tour guide is aware that not everyone will make the crossing every time and the group will wait. There is no sense trying to cross through traffic, no matter how many people you witness doing it. It's far less painful watching people get hit than being hit.

Don't carry your cell phones or wallets in your back pocket, inviting thieves to help themselves to your high-priced gadget and money. They love when you forget this simple suggestion. Don't be an easy target!

Have the emergency phone number for NationsClassroom saved in your cell phone, and/or use the lanyards or bracelets with the number provided. This way, you're never alone.

Take off headphones in the city. In fact, it's better to leave them on the coach bus. They only muffle sounds of approaching vehicles and people close to you.
Be aware of your surroundings at all times. In this fast-moving city, things can change in a heartbeat, so stay alert.
Now, here's some specific advice for Times Square, which often appears to be a much smaller area than many first-time visitors are expecting.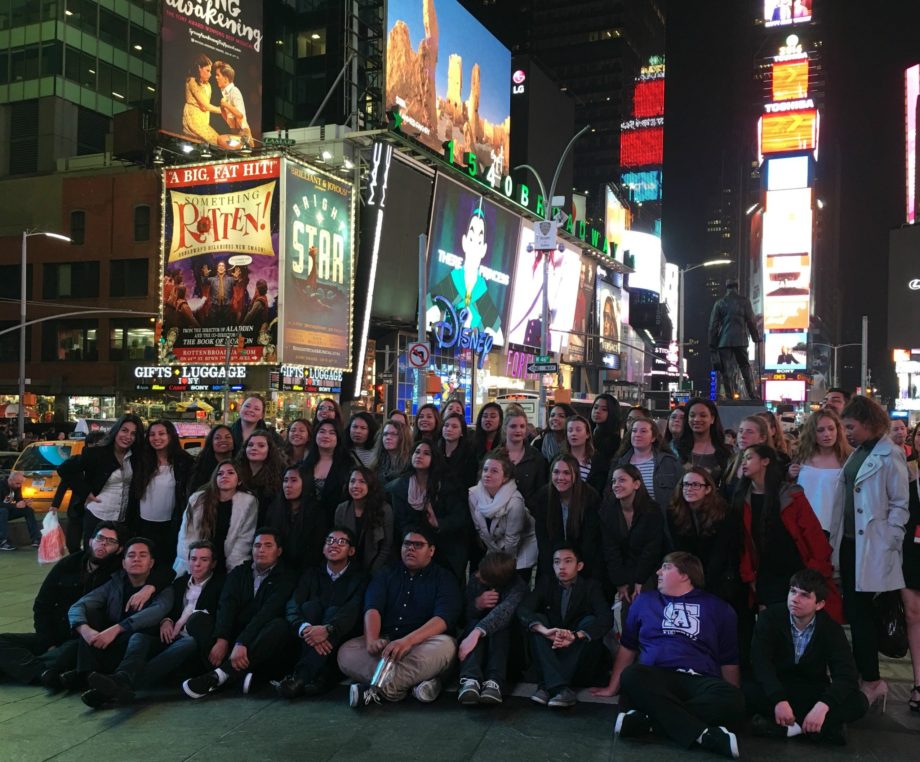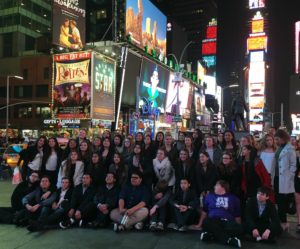 Your visit will cover approximately six blocks of this bow-shaped intersection, from 42nd Street to 48th Streets, which is a distance equal to just more than a quarter-mile.
Certain precautions should be followed by all school groups visiting NYC to make the most of your experience.
If you're wearing a tour lanyard or badge with your name clearly visible, turn it around. You'll want to keep it in sight so the Tour Manager or your group can spot it, but there is no need to display your name to strangers in the city.

Do not leave the middle of Times Square and walk down any side streets that are off of the avenues called Broadway or 7

th

Avenue. All of the most-visited shops are along those two avenues.

Know the group's meet-back spot and time, or, agree on a meet-back spot between your friends should you become separated. The easiest landmark to rendezvous is the red grandstand steps which sit between 46

th

-47

th

Streets in the middle of Times Square.

Understand the costumed TV and movie characters posing for photos are able to charge what they wish, and they expect you to pay for any photo you take with them. It's best to avoid them or view them from afar. Certain characters can be angry or aggressive when they feel they were owed money.  

There are often small groups of teens offering their "free" personal music CDs to students. However, once the student accepts the "free" CD, they are asked for a donation. It's best to work on the premise that nothing in Times Square is free and avoid the hassle. Don't get hustled!

Food carts are generally very safe to eat in NYC, but food prices are required to be clearly shown on a sign by the vendor. If the price is not shown, ask BEFORE accepting any food so you're aware of the cost. In most cases, once you accept the food item, unless it's a canned/bottled drink, it can't be returned. The city also requires both food cart vendors and restaurants to display their safety inspection letter, so only shop at

"A-graded"

food carts/establishments.

Trust me when I say, NYC has many resources available to the homeless population. It does not make you a bad person for choosing not to donate to every panhandler in the city. If you want to help the needy, volunteer once you arrive home. There are always people in need around your home community.

Lastly…TAKE LOTS OF PICTURES! Remember, you may be in New York City just once in your life. Since everyone around you is most likely a visitor as well, don't be shy, snap away, and have a great time!
---
The SCHOOL TRIP SPOTLIGHT is written by NationsClassroom's licensed tour managers and guides. Written from their years of experience with student groups, the articles feature exciting attractions from the most popular student travel destinations on the historic East Coast.
For more information, please Browse Our Tours or Request Information from our team of student travel consultants.
Originally published January 2018, updated July 2021