Lin-Manuel Miranda, Anna Wintour, Jeff Bezos Join Portrait Gallery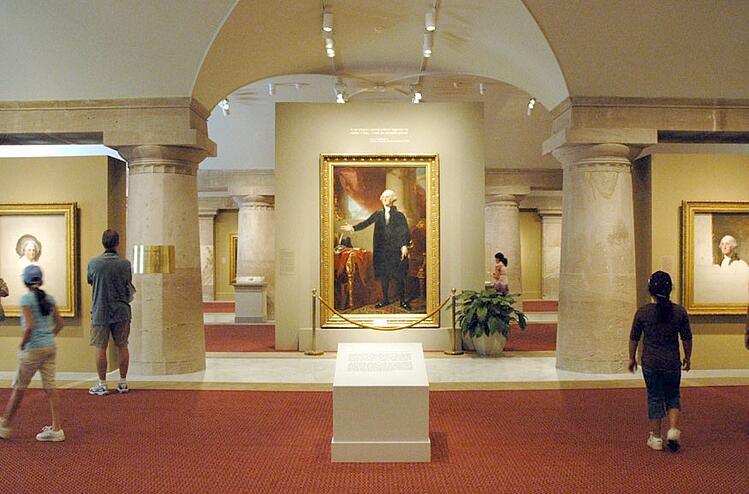 Here is an exclusive look at the six newest portraits being added to the National Portrait Gallery in Washington, D.C. this November!
According to Vanity Fair, this year's 2019 American Portrait Gala honorees include six portraits of "notable individuals who have contributed to the multifaceted and ever-changing narrative of American culture."  These six individuals join more than 23,000 works at the famous D.C. gallery.
This year's awardees include:
Lin-Manuel Miranda, American composer, lyricist, rapper, singer, actor, playwright and producer, best known for his work in the musical Hamilton.
Anna Wintour, British-American journalist and editor-in-chief of Vogue.
Earth, Wind, & Fire, American band that has spanned the musical genres of R&B, soul, funk, jazz, disco, pop, rock, dance, Latin, and Afro pop.
Frances Arnold, American chemical engineer and Nobel Laureate.
Indra Nooy, Indian American business executive and former CEO of PepsiCo. She has consistently ranked among the world's 100 most powerful women.
Jeff Bezos, American technology entrepreneur, investor, and philanthropist. He is the founder, CEO, and president of Amazon.com, Inc.
"The awardees of the Portrait of a Nation Prize reflect the mission of the National Portrait Gallery as handed down by Congress in 1962 by having made an impact on America's history and culture," Kim Sajet, director of Smithsonian's National Portrait Gallery, said in a statement.
Visitors to Washington, D.C. can view the recent acquisitions to the National Portrait Gallery beginning on November 15, 2019.
School groups traveling to Washington, D.C. and the surrounding Historic East Coast often include the National Portrait Gallery in their trip itinerary.  Browse our many Washington, D.C. trip itineraries or contact us to put together a custom itinerary for your group.