Must-Haves for Holiday Travel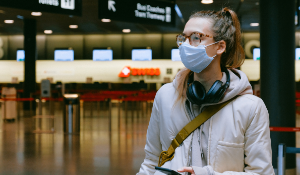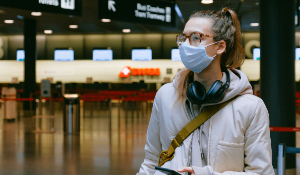 As we enter the final weeks of 2020, many families are preparing to travel over the holidays. With the changes Covid-19 has brought into our lives, many are wondering how they can stay safe while traveling.
If you're planning to travel by bus, train, or airplane this holiday season, be sure to have these items at the ready!
1. Masks
The CDC and TSA both agree that wearing a mask is one of the best ways to limit the transmission of infection between travelers. In fact, many people believe masks are here to stay – even after the pandemic is over. According to the CDC, "people should wear masks that cover both the mouth and nose when waiting for, traveling on, or departing from public conveyances."
2. Hand Sanitizer
In response to Covid-19, TSA has updated its rules regarding liquid hand sanitizer. Passengers are now allowed to carry "one oversized liquid hand sanitizer container, up to 12 ounces per passenger, in carry-on bags." Because the container will need to be individually inspected, it may add a few minutes to your screening time.
3. Sanitizing Wipes
Sanitizing wipes are a great idea whenever you're on the move. Whether you use them to sanitize armrests on the airplane, your cell phone screen at the end of the day, or high-touch surfaces in your hotel room – they provide an extra layer of protection when you're traveling. NationsClassroom encourages all their travelers to wipe down their phones with a sanitizing wipe at the end of each day.
4. Personal Water Bottle
Carrying a personal water bottle means you won't have to go into busy shopping centers, and you get the added perk of helping the environment. According to one of our Student Travel Consultants, it's best to pre-pack snacks, drinks, and meals if you're traveling long distances (especially by airplane or train). Many vendors in train stations, airports, and bus stops have been closed temporarily due to Covid-19 restrictions, so it's best to come prepared with all the food and water you'll need for your trip.
5. Research
Do your research before you travel! Many states have travel restrictions and requirements that may affect your travel plans. For example, some states are requiring travelers to prove they tested negative for Covid-19 within 2 days of their arrival. Other states require visitors to self-quarantine for 14 days following their arrival. Always refer to CDC and local guidelines when planning your travel!
---
Travel is still possible as long as you take proper precautions are taken before, during, and after your trip! Check out our video about running our first trip post-pandemic to learn more.
If you're interested in learning more about our trip destinations, check out our Browse Tours page today.