SCHOOL TRIP SPOTLIGHT: National World War One Memorial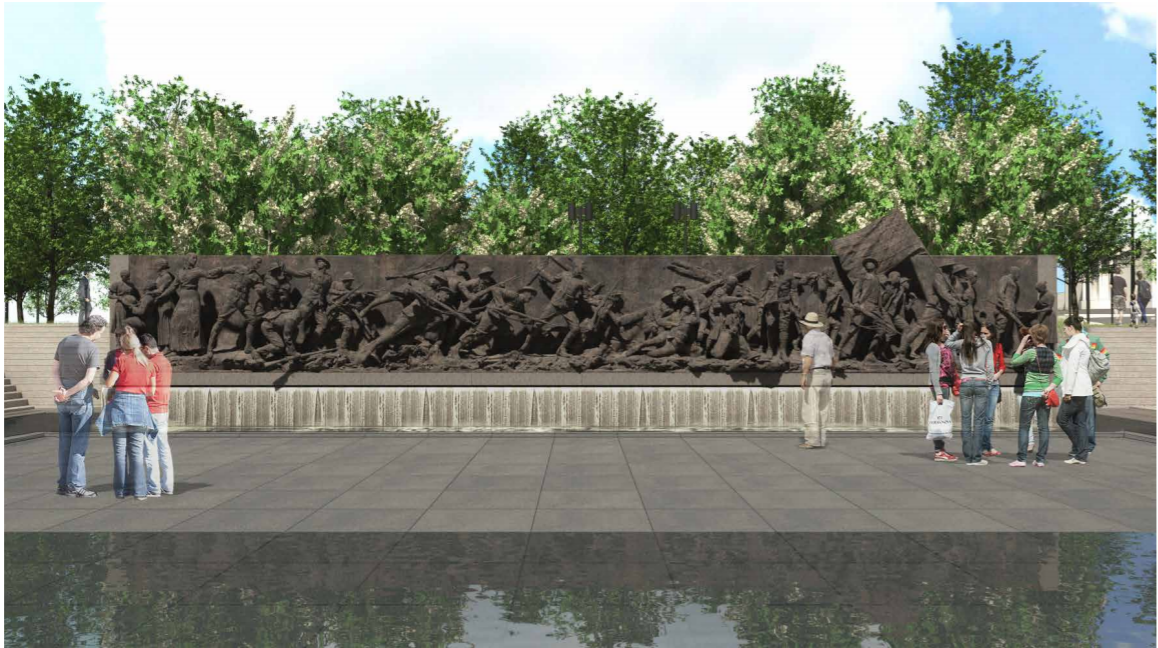 Did you know there was no National WWI Memorial in Washington D.C.?
This is the question that greets you when you visit the National World War One Memorial Centennial Commission's website. But now, over 100 years after the end of the Great War, the Commission has finally completed the World War One Memorial and it's open for visitors.
The new World War One Memorial is located in Pershing Park, just across from the White House Visitor's Center. The memorial's lead designer, Joe Weishaar, wanted to balance the park by continuing to memorialize General Pershing, while also honoring the thousands of everyday men and women who sacrificed their lives during World War One. The memorial features Pershing's existing monument in the southeast quadrant, and the new statue, A Soldier's Journey, on the west side of the park.
Sabin Howard, the sculpture's creator, created the scenes on display to reflect the journey of the average soldier as he leaves home, joins his brothers in arms, experiences the transformation and cost of the war firsthand, and finally returns home to his family.
Watch the full video about Howard's design…
On the back of A Soldier's Journey (facing the White House) is a Peace Fountain symbolizing hope for a peaceful future. Inscribed in the wall there is a quote from Archibald Macleish, an American poet who fought in World War One:
"We leave you our deaths: give them their meaning:

Give them an end to the war and a true peace:

Give them a victory that ends war and peace afterwards:

Give them their meaning.

We were young, they say. We have died. Remember us."
Three other new inscriptions are placed around the park near entrances, and the inscriptions on Pershing's memorial have been cleaned and refinished. The park has also been updated to be more accessible for those in wheelchairs, and it will be beautifully lit at night for your evening memorial monument walking tours.
Anyone with a smartphone can access more information about World War One and the memorial by scanning QR Codes engraved on nine poppy medallions placed around the park. The memorial will also incorporate an augmented reality app that will allow visitors to experience and discover information and history about World War One by interacting with the memorial on their phones.
If you're interested, view more information about our student trips to Washington, D.C. on our website.
Stay tuned for more updates on opening attractions and information about the memorial's augmented reality app!
Originally published April 2020, updated April 2021.