SCHOOL TRIP SPOTLIGHT: The Franklin Delano Roosevelt Memorial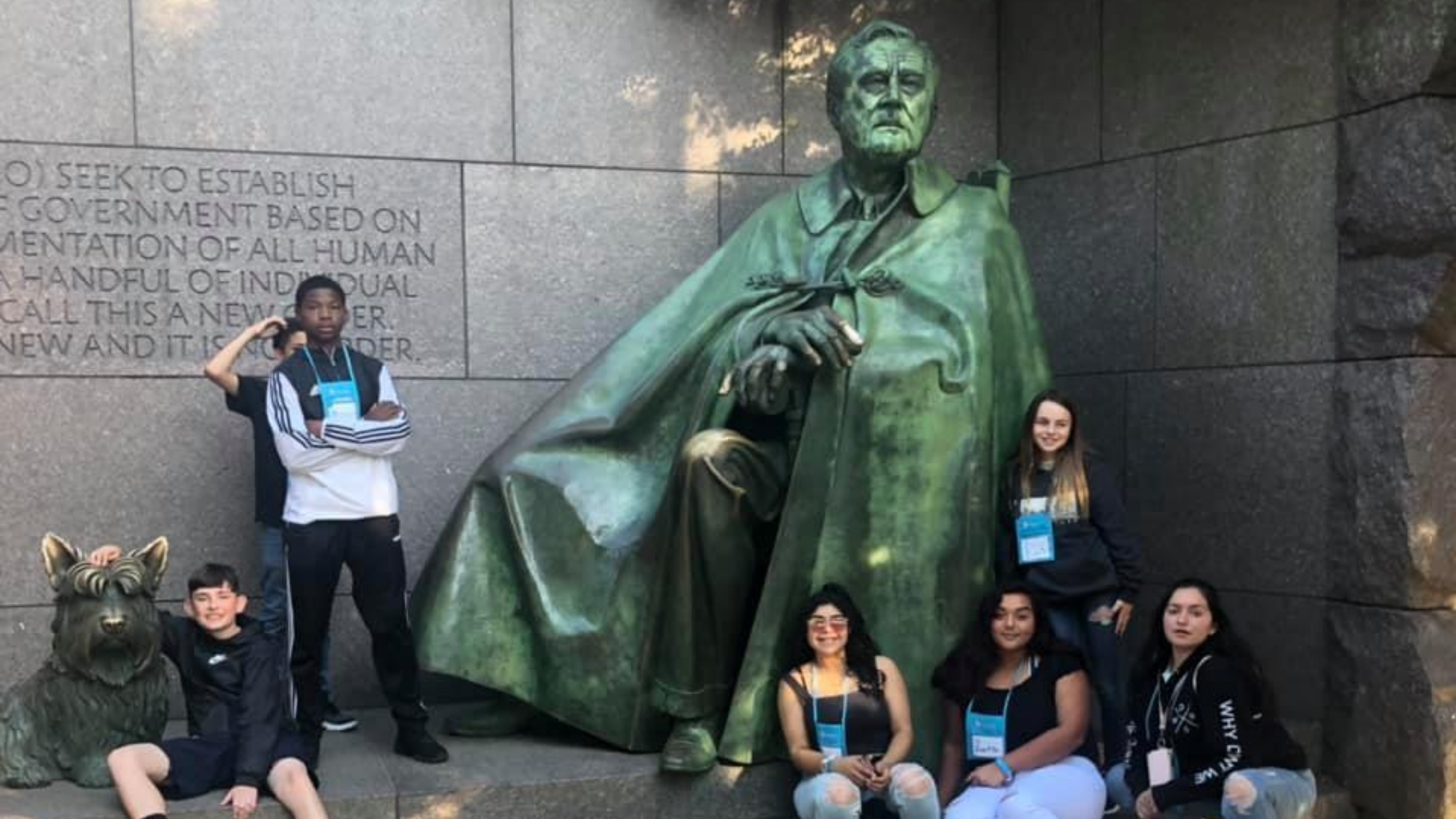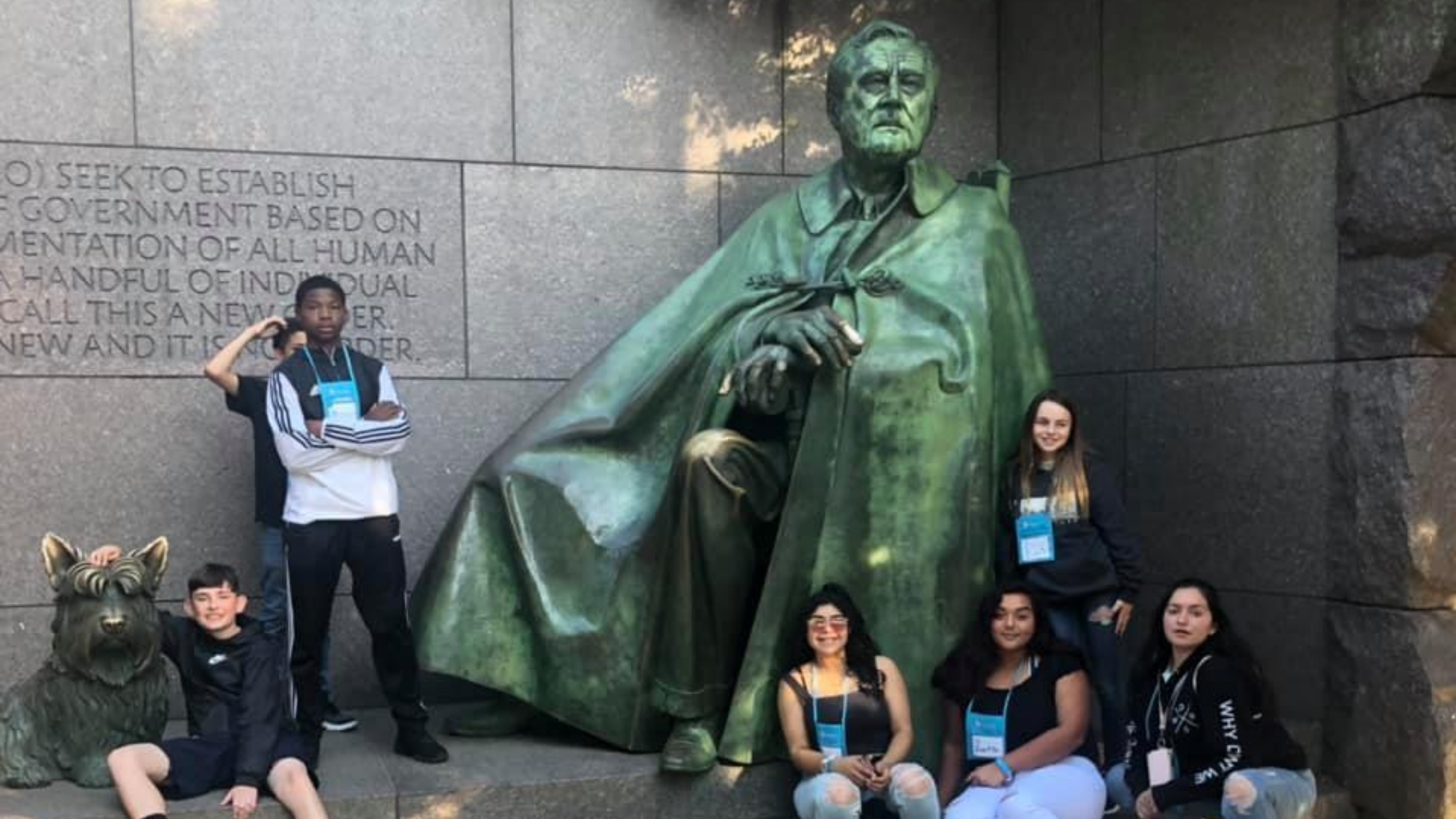 Curious about how much time to allot when your group visits the Franklin Delano Roosevelt Memorial in Washington, D.C.?  Or what other memorials to do alongside it? Or where the best group photo spot is? Read on for licensed tour guide Aaron Killian's school trip spotlight on visiting the Franklin Delano Roosevelt Memorial.
Or, check out our video adaption here.
Franklin Delano Roosevelt was the longest serving president in United States' history. During his record breaking tenure as chief executive, he led the nation through a Great Depression and a World War. A resume like that gets a memorial; his is nestled among the cherry blossom trees along the banks of the Tidal Basin.  
In terms of sheer acreage, FDR's Memorial is the city's largest. It is filled with sculpture, carvings, and waterfalls broken down into four sequential rooms.
Each room corresponds thematically with one of FDR's terms, and his quotations provide an accent to the walls. The memorial is highly walkable, and visitors truly go on a journey as they move from one end to another.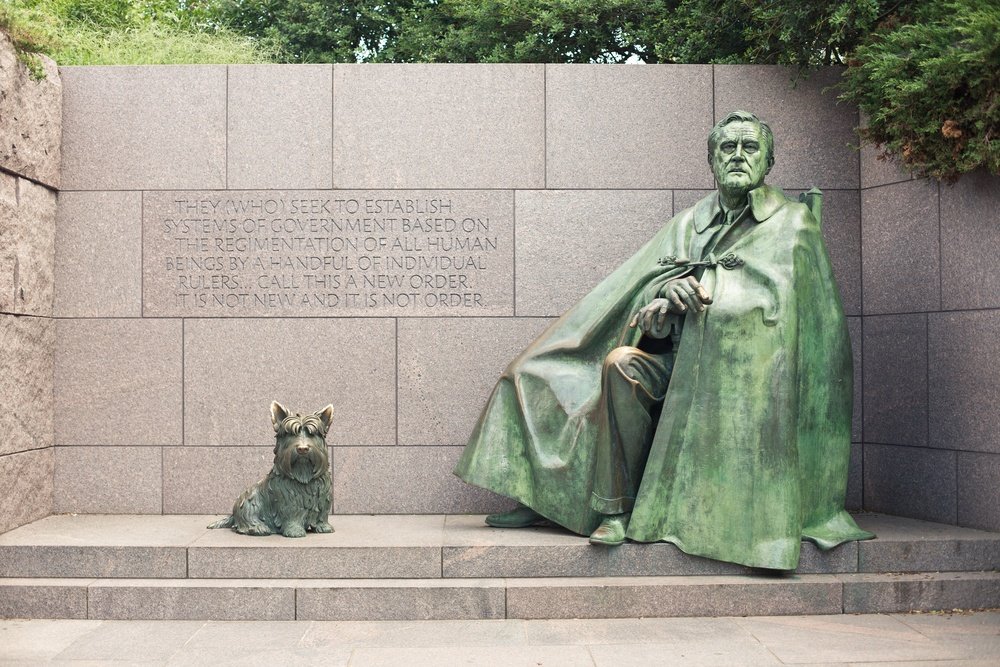 In the memorial's third room, a jumble of stones and a chaotic waterfall represent the destructiveness of WWII. A highlight for young visitors here is the larger-than-life sculpture of FDR himself, seated beside his Scottish Terrier, Fala. Group photos are always popular at this point.  
Before you exit the memorial, make sure to visit the statue of a remarkable woman – Franklin's wife, Eleanor Roosevelt. She ranks among the great first ladies and served as the first United States Representative to the United Nations.
There are restrooms at both ends of the memorial and a gift shop at the west entrance.  FDR is situated between the memorials honoring Thomas Jefferson and Martin Luther King Junior.
Typically, all three memorials are visited as a group. Allot an hour and a half for the entire circuit. Enjoy the walk – it's the loveliest stroll in D.C.
---
The SCHOOL TRIP SPOTLIGHT is written by NationsClassroom's licensed tour managers and guides. Written from their years of experience with student groups, the articles feature exciting attractions from the most popular student travel destinations on the historic East Coast.
For more information about a school trip to Washington, D.C., please Browse Our Tours.
Published July 2018, updated December 2020.