SCHOOL TRIP SPOTLIGHT: The National Native American Veterans Memorial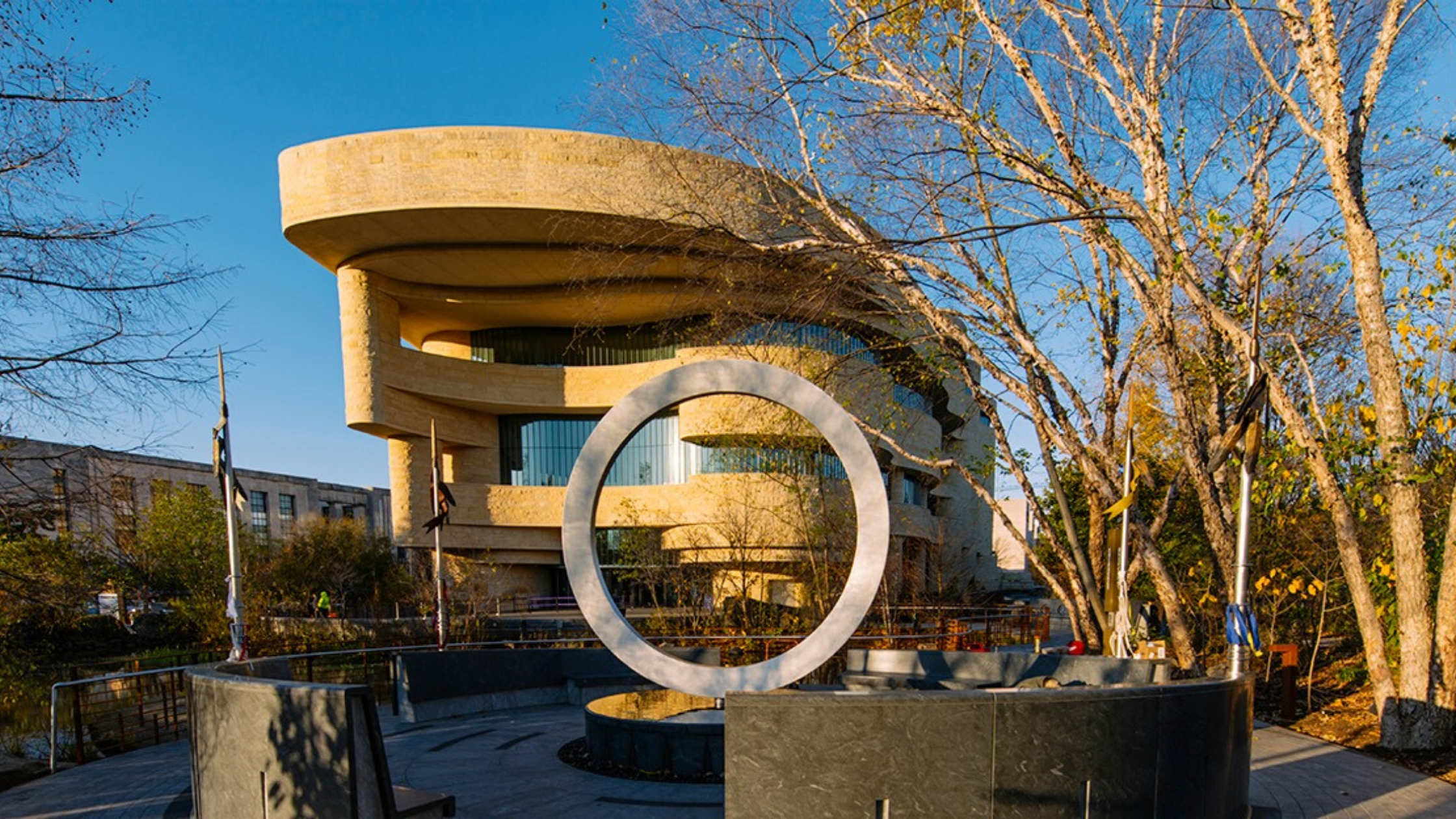 The Native American Veterans Memorial officially opened to the public on November 11, 2020. Just outside of the Smithsonian Museum of the American Indian, the new memorial honors the thousands of American Indian men and women who have served and continue to serve in the United States Armed Forces.
In 2013, Congress passed legislation allowing the National Museum of the American Indian to construct a memorial to give "all Americans the opportunity to learn of the proud and courageous tradition of service of Native Americans in the Armed Forces of the United States."
Seven years later, the dream finally became a reality when – during the Covid-19 pandemic – the memorial was finally complete and opened to the public.
Situated in a wooded area to the east of the museum, the Native American Veterans Memorial was thoughtfully and intentionally designed by "Harvey Pratt, a member of the Cheyenne and Arapaho Tribes of Oklahoma and a Southern Cheyenne Peace Chief." Pratt is a self-taught artist and Vietnam veteran and sought to incorporate American Indian tradition in his design.
The central part of the memorial "is a large, vertical stainless-steel circle, sitting atop a low, carved stone drum form, at the center of a circular gathering space." The stone drum is also a fountain, with water continually flowing out. Four pathways lead up to the gathering space, each entering from one of the four cardinal directions, called the Path of Harmony.
The circular design of the memorial is meant to be symbolic. According to their website, "the circle is relevant to many Native American cultures in the shape of a drum and of circles for dance, storytelling, and prayer." Because the memorial is a place of reflection, honor, and remembrance, there are also places for visitors to leave prayer ties.
Next time you're visiting Washington, DC, make sure to spend a few, quiet minutes reflecting at the Native American Veterans Memorial as you listen to the running water and songs from the "Ojibwe, Menominee, Blackfeet, Ho-Chunk, Kiowa, and Lakota Nations."
---
Interested in learning more about a school trip to Washington, DC, or one of our other destinations? Explore our Browse Tours page, or book a time to chat with one of our Student Travel Consultants.
Originally published January 2021, updated June 2021.