60 Years of the Basilica of the National Shrine in D.C.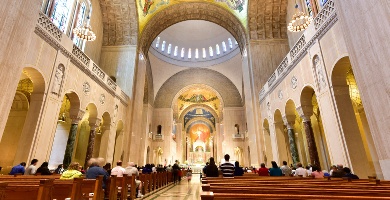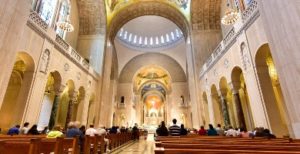 The Basilica of the National Shrine of the Immaculate Conception is celebrating its 60th anniversary of its dedication in Washington, D.C.  Have you ever visited the Basilica? Read more about the largest Catholic church in North America in today's blog post.
On November 20, 1959, thousands of travelers visited Washington, D.C. to witness the blessing and dedication of the National Shrine.
During the past 60 years, the National Shrine, often referred to as "America's Catholic Church", has only grown with the additions of new chapels and oratories.  There are now over 80 chapels and oratories. Many famous Catholic figures have also visited the Basilica – including Pope Francis, Pope Benedict XVI, Saint Pope John Paul II, and Saint Mother Teresa of Calcutta, among others.
Today, the Basilica stands as our nation's preeminent Marian shrine and patronal church, "rivaling the great sanctuaries of Europe and the world, not only in size and stature, but also in beauty, dignity, and sanctity."
Explore more about the Basilica's rich history here.
If your school group is considering a trip to Washington, D.C., browse through our sample trip itineraries or reach out to one of our experienced travel consultants today.