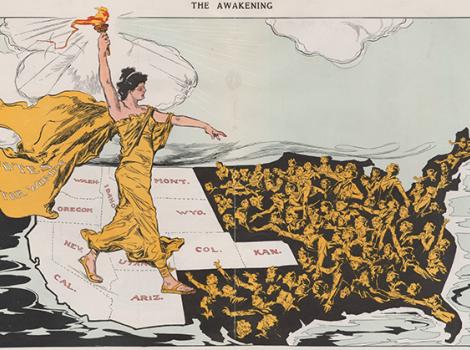 Most Americans recognize the name of Susan B. Anthony as being a key fighter for the women's suffrage movement. But she was far from the only woman working tirelessly for the rights of women across the United States.
A new exhibition at the Smithsonian National Portrait Gallery explores and celebrates the women and organizations "often overlooked" in the narrative of the women's suffrage.
The exhibition is titled "Votes For Women: a Portrait of Persistence" and is curated by historian Kate Clark Lemay.
When interviewed about the exhibition, Lemay commented, "Putting together this exhibition was revealing of how much American women have contributed to history but how little attention we have paid them." In fact, only 18 percent of the Portrait Gallery collection represents women.
The Smithsonian's website provides a thorough description of the exhibition, opening next week:
Through portraiture, biography, and material culture, the exhibition examines the contributions of the radical women in antislavery societies; women activists of the late nineteenth century; the "New Woman" of the turn of the century; and the militant suffragists of the 1910s. This presentation also highlights the struggles that minority women endured long after the passage of the Nineteenth Amendment.
The exhibition comes just in time for a major anniversary. The year 2020 will be the 100 year anniversary of the passage of the 19th Amendment, guaranteeing and protecting women's constitutional right to vote.
The exhibition will run from March 29, 2019 - January 5, 2020.
School groups planning a trip to Washington, D.C. may want to talk to their NationsClassroom travel consultant to add a trip to the National Portrait Gallery to their itineraries.
And if you'd like to read more about our in-depth review and tips for taking school groups to the National Portrait Gallery, read our SCHOOL TRIP SPOTLIGHT: National Portrait Gallery.