7 Things to Know Before Traveling by Motor Coach on Your School Trip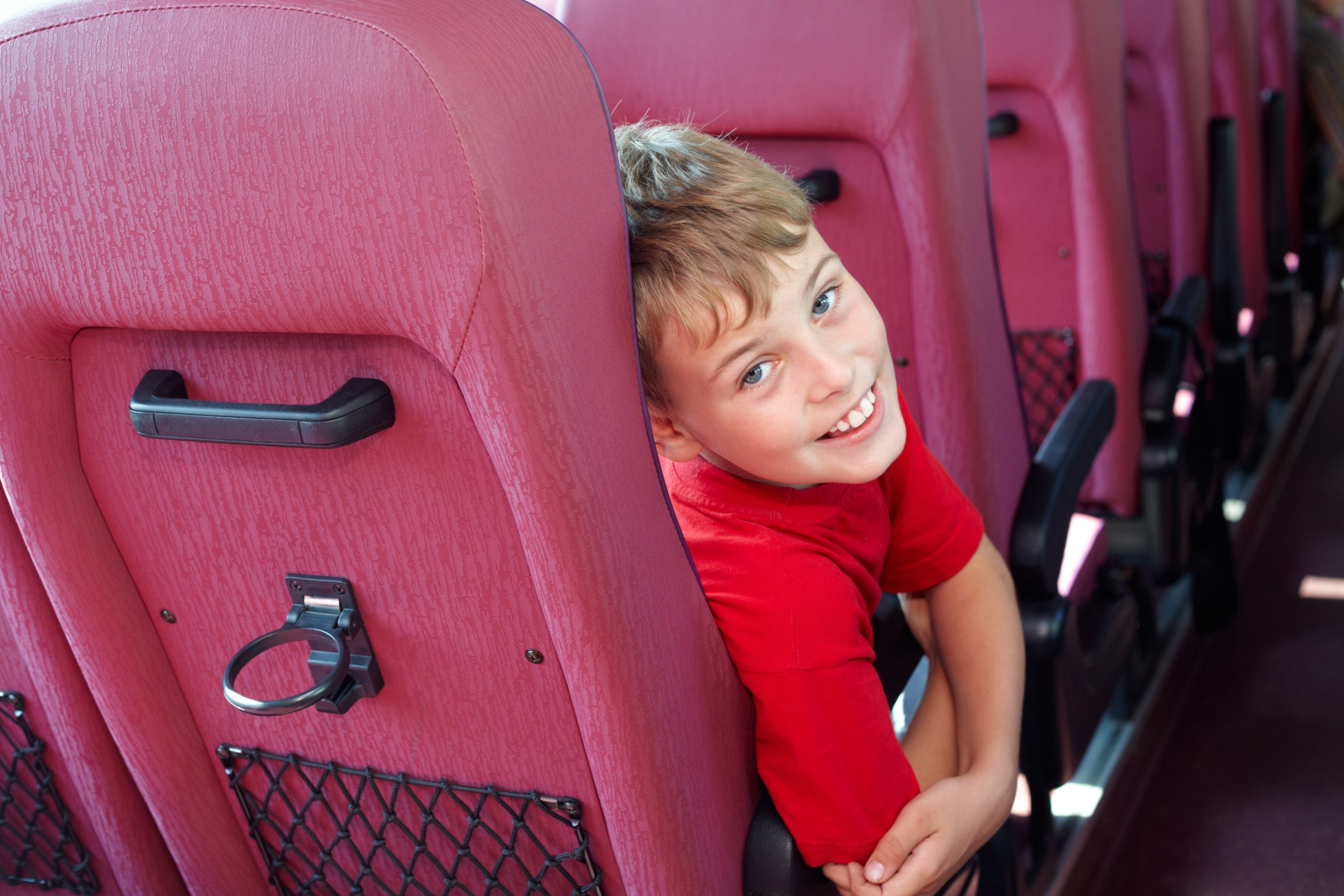 If you are taking students on an educational or performance tour, chances are you'll find yourself on a coach bus for transportation. Whether you ride the coach to your destination or board one once your flight lands, you'll spend a considerable portion of your time traveling on board.
Here are seven things to consider before climbing aboard that will help your group make the most of your time on the road.
1. Bus Size and Day Groups
Make sure you know the capacity of your buses. Most buses carry either 47, 55, or 56 passengers. You'll want to save at least one seat on each bus for your local tour guide. Ask your student travel consultant so you can plan ahead for the best way to seat your group if you're using multiple buses. 
2. Electronics
A day of touring and photo-taking can zap a phone battery quickly. Most motorcoaches provide outlets for recharging and free onboard WiFi, but there is always a chance the coverage will be spotty. Until on-board technology catches up with our usage demands, taking steps to make your battery last longer will be worthwhile. Here are some great tips on How to Make Your Smartphone Battery Last Longer.
3. Screen Time
Make the most of your time by watching movies related to your educational goals and the sights you're visiting. For example, a ride out to Mount Vernon could feature the film We Fight to Be Free about the defining moments of George Washington's career. Most buses have TV monitors and a DVD player but check with your student travel consultant if this is a feature you want to guarantee.
Additionally, your tour guides have a plethora of information they can share with your students while the bus is in motion. Encourage students to tune in by enforcing some basic screen time rules.
 4. Safety First
Talk to your students about on-board behaviors in advance to ensure safety, like staying seated, leaving the aisle clear, and keeping the volume down. With limited sleep and adrenaline at work while on tour, even the most well-behaved kids need reminders from chaperones while on the road. The Student Youth Travel Association (SYTA) recently released motorcoach safety guidelines if you're interested in learning more.
 5. Eating On-board
Check with your driver, but most allow food and beverages onboard. Ask your travelers to exercise caution with anything made of glass and avoid open cans and cups for obvious reasons. You also should consider any allergies that could cause a reaction if a person is exposed on board. It's helpful and courteous to clean up before leaving the bus by passing around a garbage bag and dismissing students by row after checking the area.
 6. A Trusted Bus Company
NationsClassroom partners with several incredible charter bus companies that guarantee a great experience. These relationships provide you with fair prices, experienced drivers, and buses with the features that will best meet the needs of your tour group. Your bus driver will be friendly and safety conscious. Additionally, your charter bus company will provide clean, safe, and insured transportation. 
It's highly encouraged that school districts allow NationsClassroom to work with our preferred partners and not restrict your group with a predetermined list of charter bus companies.
 7. Good Service and Gratuities
It is customary to tip your driver for a job well done. NationsClassroom tours are all-inclusive, which means tips are covered. Beware: not all tour companies include gratuities. This is something to confirm so you're not stuck passing a hat at the end of your tour.
Motorcoach transportation is a step up from the yellow buses we're used to riding during field trips. Hopefully, these planning tips will make it even better. Enjoy the ride!
---
If you are new to student travel, we'd love to hear from you! We organize student trips to the Historic East Coast, and our Student Travel Consultants would love to create a fully customized itinerary for you and your students.
Originally published June 2017, updated May 2021