Take a Virtual Field Trip to the Smithsonian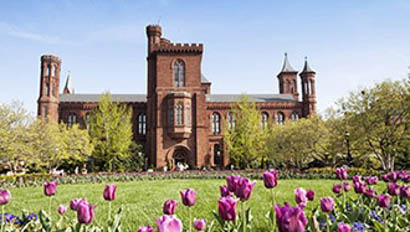 Washington, D.C., is an excellent location for a school trip. From magnificent monuments to incredible museums, our nation's capital offers many opportunities for hands-on learning. But, not everyone will be able to make it to Washington, D.C., in person.
Thankfully, many Smithsonian Museums offer interactive online options for virtual visits and lesson plans. In a time of asynchronous learning, having relevant online content to share with your students is a MUST. With these Smithsonian virtual field trips, your students will be able to experience museums without having to leave the classroom.
National Museum of American History
The National Museum of American History does not offer a "traditional" virtual field trip, but it has a massive online resources database. The Smithsonian's History Explorer is the perfect place to find lesson plans, activities, video series, and other educator resources. The home page also has a helpful search tool to break resources down by historical era, grade level, and content area.
The Museum of American History has many online exhibits that students can virtually visit. Not only does this allow students to view exhibits from their own computers, but it preserves closed exhibits from the past.
National Museum of the American Indian
The Museum of the American Indian offers several virtual field trips for student groups, ranging from elementary to high school. All virtual field trips are free, but they require advance registration and a minimum of 10 students to participate. Many of the field trip topics can offer cross-curricular and content-specific lessons.
If you're looking for more resources and lesson plans, the museum also offers Native Knowledge 360. This online database provides webinars, lesson plans, resources, and professional development opportunities.
National Museum of Natural History
The National Museum of Natural History offers virtual tours and digital school programs. The virtual field trip is self-guided, and students can digitally roam the museum's exhibition halls. The quality is high enough to read all the exhibit text, and there are close-up shots of exhibit information panels. There are also a few narrated video tours if you're hoping to keep your virtual field trip a little more structured.
Similar to the Museum of the American Indian, the Natural History Museum offers free educational learning programs over Zoom. There are three programs for grades 6-12:
Hot Potato: Climate Change, Food Systems, and You
Human Origins: What does it mean to be human?
Reefs Unleashed
National Air & Space Museum
On their "Learn" page, the National Air & Space Museum offers several virtual learning opportunities for students, including virtual programs and resources. While we've already covered some of the online STEM programs from Air & Space in previous blog posts, the museum also offers virtual field trips to the planetarium and virtual science demonstrations. Both programs require early registration and can be organized over Zoom or Google Teams.
If you're looking for something to fill in downtime in your classroom, you can also send your students on virtual scavenger hunts through the online museum exhibits. Out of all the Smithsonian virtual field trip options, Air & Space has a lot to offer!
National Museum of African American History and Culture
Currently, the Museum of African American History does not offer any virtual field trips. However, there are several online resources you can utilize on their website. The museum's student page gives visitors access to the Learning Lab and Reading Resources. You can also access STEM-focused resources on the STEM at NMAAHC page.
Even if you can't experience a virtual field trip with the Museum of African American History, you can still visit a few online exhibits through their Digital Resource Guide.
---
Need more virtual field trips? Be sure to check out the virtual field trip to Caper's Island for a dive into wildlife and ecosystems. Even if your students can't travel to Washington, D.C. in person, they can still experience museums and exhibits from afar.
When you're ready to begin your school trip journey, reach out to our Student Travel Consultants to create a customized itinerary!