SCHOOL TRIP SPOTLIGHT: National WWII Memorial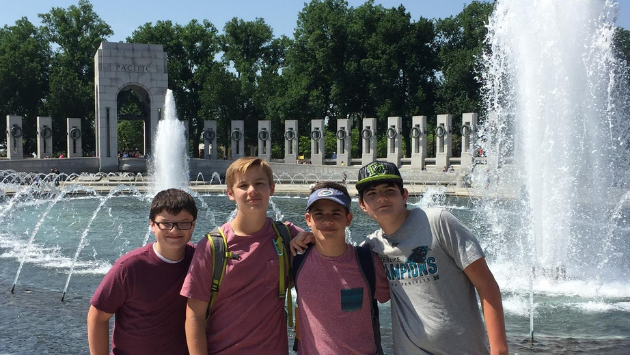 As Americans observe National Pearl Harbor Remembrance Day today, they reflect upon the men and women who made the ultimate sacrifice while serving in World War II.
We've enlisted licensed Washington, D.C. Tour Guide Aaron Killian to give us his perspective on taking students to visit the National WWII Memorial in Washington, D.C.  Read on for his travel tips and insights.
---
The National WWII Memorial is a fairly recent addition to the Washington, D.C. landscape. Dedicated on Memorial Day, 2004, the memorial honors the 'Greatest Generation.'
Its location also makes it a great starting point for a tour of important memorials while on a school trip to Washington, D.C.
The entire nation was mobilized during World War II. Appropriately, the memorial is ringed with pillars each bearing the name of the 56 states and territories of our nation. The pillars are alternately hung with wreaths of oak and wheat, respectively signifying the country's industrial and agricultural strengths, and connected with a bronze rope to symbolize unity.
In the center of the WWII Memorial stands the magnificent rainbow pool. The eastern stairs are paralleled with rich, bronze carvings depicting scenes from the Atlantic and Pacific theaters. The memorial is also flanked by two great victory arches which commemorate America's triumph in both theaters. Eagles, laurels, and medallions adorn the arches' interior.  
Over 400,000 Americans gave their lives to defeat the Axis Powers. Their memory is honored by the 4,000 golden stars on the western wall of the memorial; each star represents 100 American dead.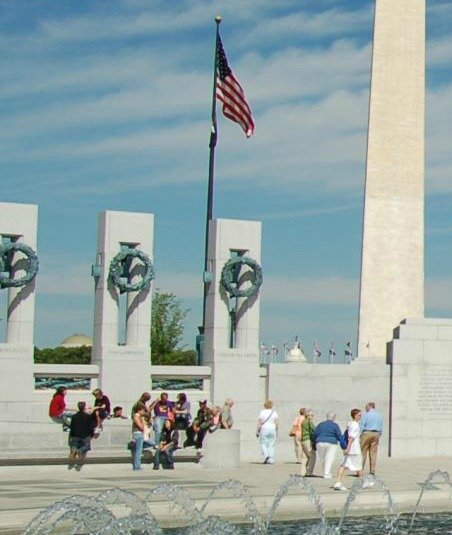 Your students may encounter visitors from an 'Honor Flight' during the visit. Honor Flight is a nonprofit that transports veterans to Washington D.C. to see all the memorials, at no cost to the veterans. Make sure to shake their hands and thank them. They can't be missed – look for the proud older gentlemen and ladies wearing matching hats and t-shirts, many in wheelchairs.
As you exit the bus, an immediate left turn brings you to the restrooms at the sidewalk's end.
The WWII Memorial is at the center point of the western axis of the National Mall. From here, it's a walkable distance to other memorials including the Lincoln Memorial, Korean War Memorial, and Vietnam War Memorial, or The Tidal Basin memorials for MLK Jr., FDR, and Jefferson. Depending on the weather, the group's energy level, and other factors, guides often use the WWII Memorial as a jumping-off point to explore one of these areas.
P.S. Don't forget to ask your guide about Kilroy! 
---
The SCHOOL TRIP SPOTLIGHT is written by NationsClassroom's expert, licensed guides and features exciting attractions from the most popular student travel destinations on the historic East Coast.
For more information please Browse Our Tours.
Originally published November 2017, updated March 2021