Teacher Appreciation Week 2022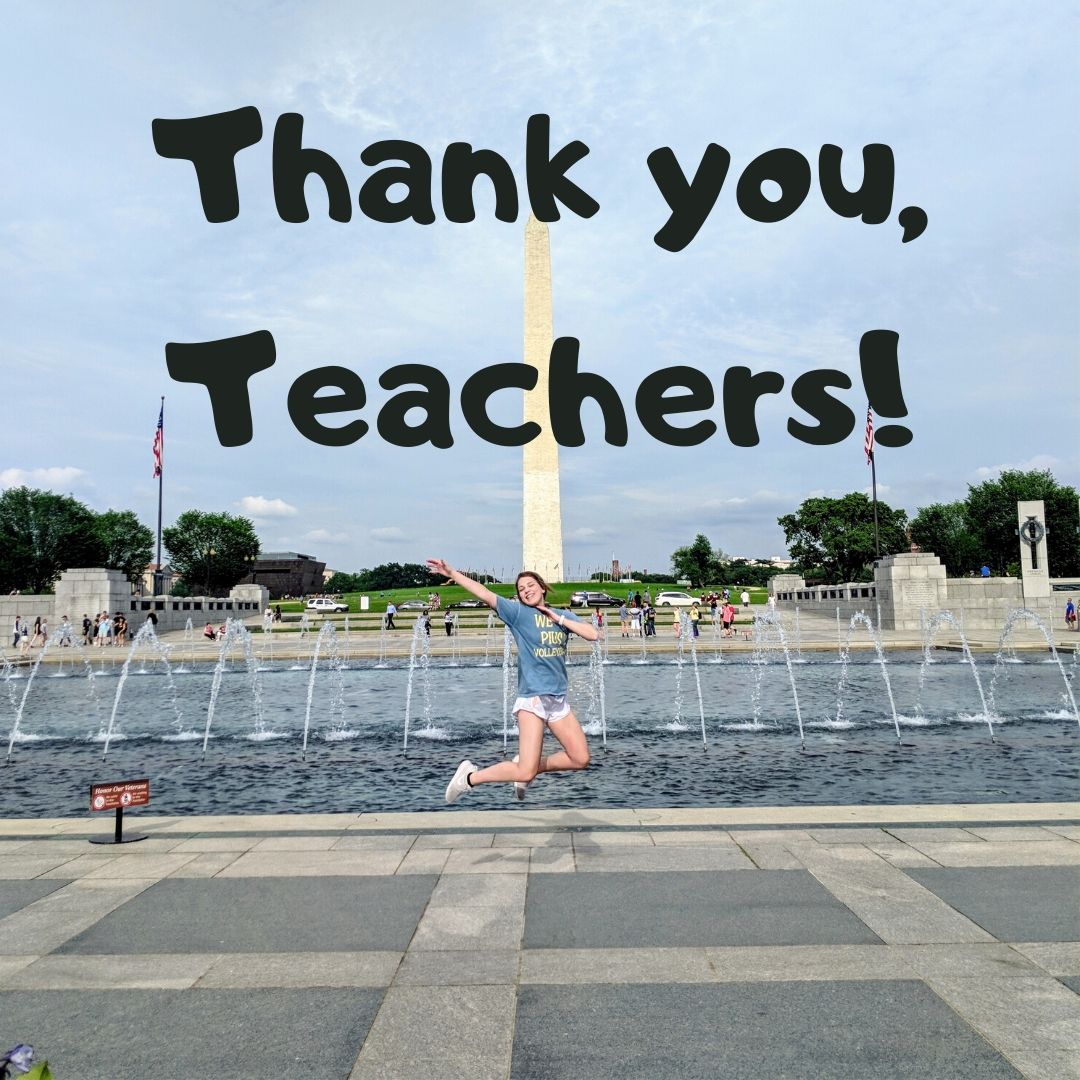 It's Teacher Appreciation Week again, and we want to give educators everywhere a huge shout-out: THANK YOU!
Teachers are genuinely incredible, and they've proven that again and again over the past three years as we continue to recover from the Covid-19 pandemic. Hopefully, you are doing something to thank the incredible teachers in your life. Now more than ever, they deserve some extra appreciation.
At NationsClassroom, we are deeply thankful for all the teachers who work hard every day to keep educating and inspiring the next generation. Whether you travel with your students or not, we know that you're making a life-changing impact on your students' lives. From the bottom of our hearts, thank you!
We've compiled all of our content with free teacher resources here, so they're easy to find in the spirit of the season. So whether you're looking for virtual field trips, free printables, or some classroom resources, these highlights will give you content to keep your kids engaged in the classroom.
History
Colonial Virginia
Four museums in Virginia released free teacher resources after the Covid-19 Shelter-In-Place order had them close their doors. These are great history and social studies resources from Jamestown, Yorktown, The American Civil War Museum, and St. John's Church. You'll also find some fun, interactive games on the Jamestown and Yorktown website for students to play. Even though these locations have reopened, the resources are still available online for your students to enjoy.
National Constitution Center – Philadelphia
The National Constitution Center has MANY online resources for teachers. This blog post focuses on their free lesson plans, videos, and virtual tours. In addition, the staff of the National Constitution Center has created a library of educational videos for students and teachers to use in the classroom. They've also preserved past exhibits so students can virtually tour them today!
The Interactive Constitution tool is a fantastic resource for students and teachers if you're studying civics, government, or American history. The online guide breaks the historic document down into parts that are easier to digest and includes interpretations of the harder-to-read sections.
Smithsonian Museums – Washington, D.C.
Many Smithsonian Museums offer interactive online options for virtual visits and lesson plans. In a time of asynchronous learning, having relevant online content to share with your students is a MUST. With these Smithsonian virtual field trips, your students will be able to experience museums without having to leave the classroom.
The Tenement Museum – New York City
Help your students face the uncertain future with lesson plans from the Tenement Museum in New York City. Whether you're studying the history of contagious diseases or you want to play an interactive game where students can experience life as an immigrant at the turn of the twentieth century, there are some fantastic resources offered by one of New York's most important museums.
Science & STEM
Yellowstone & Grand Teton
The great outdoors, wide-open spaces, and experiential learning. School trips to America's National Parks offer more than you can imagine for teachers and students alike. But, if you can't visit the National Parks with your students this year, you can still visit virtually! Yellowstone and Grand Teton National Parks offer great lesson plans and virtual tours for housebound adventurers.
Capers Island – Charleston
Charleston is also a fantastic destination for school trips focused on science and STEM. If you're looking for a field trip to teach your students about ecology, wildlife conservation, and environmental science, the Barrier Island Eco Tour would fit perfectly in your itinerary.
Intrepid Museum – New York City
The Intrepid Sea, Air, and Space Museum Complex "is dedicated to the exhibition and interpretation of history, science and service as related to its home aboard the aircraft carrier Intrepid, a National Historic Landmark." Here are our favorite resources from The Intrepid that you can use with your students!
The Arts
The MET – New York City
Unless you're an avid watcher of Bob Ross, you probably don't think about teaching art from the comfort of your own home, especially when there is already so much content to cover during the day. That's why we love the MET Museum in NYC. They have released incredible cross-curricular lesson plans that allow you to integrate the arts into any classroom.
---
Thank you teachers, for everything you do! We hope these resources spark inspiration in your students. When you're ready to start planning your next school trip, contact one of our Student Travel Consultants to learn more about our School Trip Destinations.
Originally published May 2021, updated April 2022