Washington Monument Lights Up for Apollo 11 Anniversary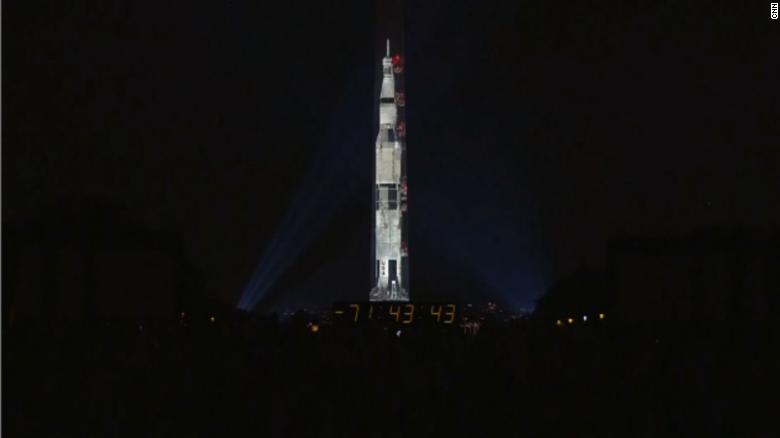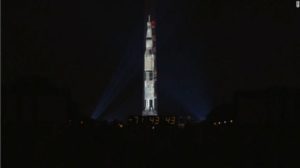 The Washington Monument was ready to launch Tuesday night – or at least it appeared to be!  In honor of the 50th anniversary of the Apollo 11 moon landing, the east face of the famous D.C. monument will be illuminated every night this week with the 363-foot image of the Saturn V rocket, complete with a 40-foot-wide re-creation of the famous Kennedy Space Center countdown clock at the monument's base.
On Wednesday, July 17th and Thursday, July 18th, the projection will be live from 9:30 pm to 11:30 pm.
According to the Smithsonian National Air and Space Museum, the week builds up to July 19 and 20, when a live show premiers.  The 17-minute show, titled "Apollo 50: Go for the Moon," will combine full-motion projection mapping artwork and archival footage to recreate the launch of Apollo 11 and tell the story of the first Moon landing.
The best part?  The entire show will take place on the face of the Washington Monument.
The free show will run at 9:30 pm, 10:30 pm, and 11:30 pm on Friday, July 19, and Saturday, July 20.  According to the press release, the best place to experience "Apollo 50: Go for the Moon" is on the viewing areas on the National Mall in front of the Smithsonian Castle between 9th and 12th Streets.

This presentation was conceived and commissioned by the National Air and Space Museum, and is made possible through a partnership with the U.S. Department of the Interior and 59 Productions.
And check out our post about other Apollo 11 celebrations happening near you.